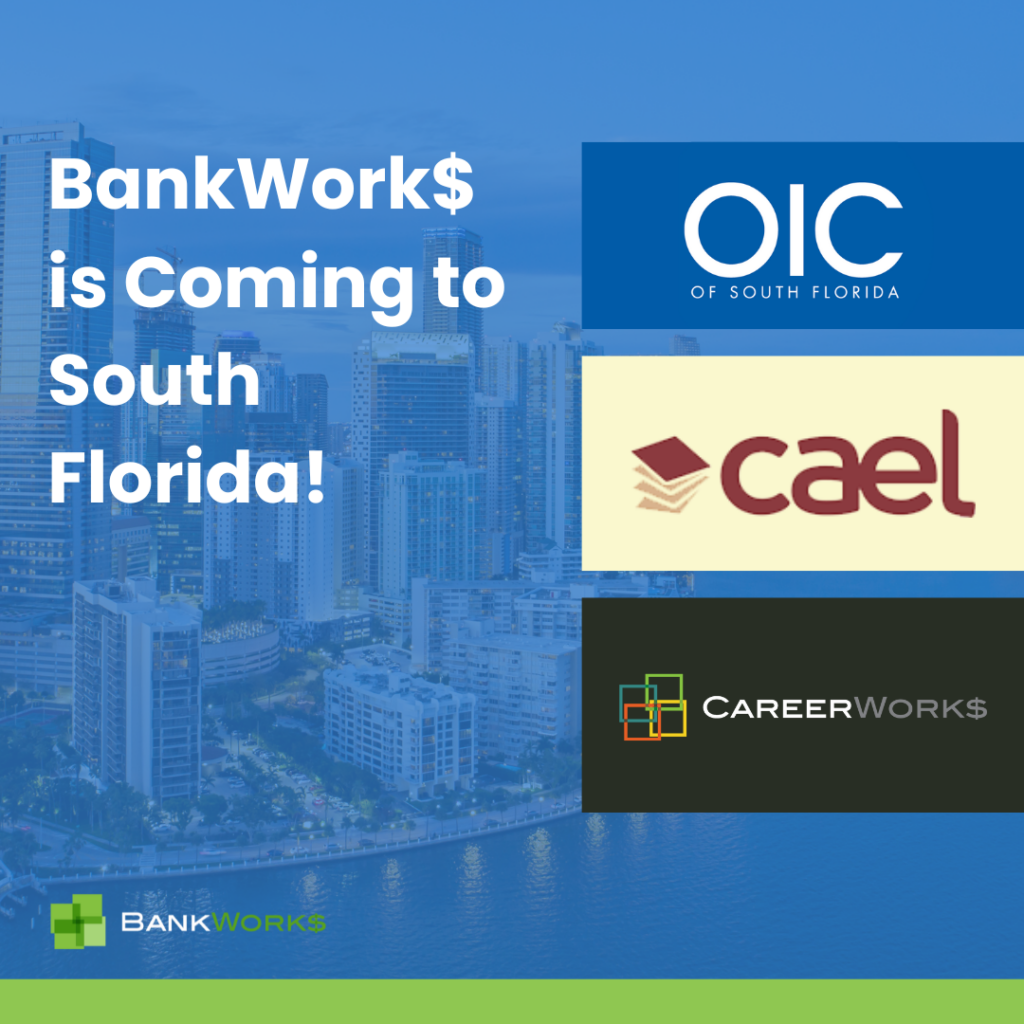 View original press release here.
OIC of South Florida announced today that it will begin offering a brand-new training curriculum focused on preparing individuals for careers in the financial services industry. The program, called BankWork$®, begins October 9, 2023, and is a free, eight-week program offering expert-led, in-person and online sessions designed to help individuals develop the practical skills, knowledge and tools needed to pursue rewarding careers and advance in the dynamic financial services sector.
What sets the BankWorks$ program apart is its commitment to holistic development. The result of a strategic partnership between OIC of South Florida, CareerWork$® and The Council for Adult and Experiential Learning (CAEL), BankWork$ consists of a comprehensive curriculum that teaches banking and financial services fundamentals along with interactive, hands-on sessions centered on workforce readiness, digital literacy and employment soft skills. Upon completion, OIC of South Florida will also provide job placement assistance to help students land jobs at leading banks and credit unions in the local community.
"CareerWork$ is excited to partner with OIC South Florida to bring BankWork$ to Broward County," said Ranko Fukuda, Interim Executive Director at CareerWork$. "With the support of the local financial services employers, we look forward to launching many new careers with excellent growth potential in South Florida!"
The partnership allows OIC of South Florida to not only continue its focus on developing in-demand skillsets, it also creates an opportunity to prepare and develop a talent pipeline for careers needed now in the modern banking industry.
"Our partnership with CareerWork$ and CAEL is invaluable to us as we continue to expand our programs to meet the immediate hiring needs of employers in our South Florida communities. This is a transformative step that empowers our community members and our employer partners to thrive," said Newton Sanon, CEO and President of OIC of South Florida. "In a rapidly evolving financial services landscape, access to comprehensive education and practical skills is vital. BankWork$ will open doors to meaningful careers and contribute to the economic advancement of individuals and families across South Florida."
Graduates of the program will be well-equipped to excel in entry-level positions at local banking institutions and embark on a promising, upwardly mobile career path.
"CAEL thanks OIC of South Florida for leading the charge to provide access to this short-term career-training program to the local community through Truist Foundation's Where It Starts: Build Better Careers initiative," said Earl Buford, president of CAEL. "Our partnership is just getting started and shows great promise as we work together to create education-to-career pathways for more individuals in the South Florida area to connect with good jobs in the financial services sector."
OIC of South Florida invites individuals who are seeking to launch their careers in the banking industry to apply for the BankWork$ program. For eligibility criteria and application details, download our flyer.
To learn more about OIC of South Florida's Youth and Family Services programming and more, visit www.oicsfl.org.
###