Creating Career Connections
CareerWork$® connects young adults from low-income communities to employers in banking and healthcare to create access to lasting careers that help participants, communities, and employers succeed.
Working with local partners around the nation, we offer free, eight-week career training programs, BankWork$® and CareerWork$ Medical®.
We are proud of our work in 13 markets to help place over 3,500 graduates in new careers with strong growth potential. But as we've continued to grow our programs and expand our impact, we wanted to better understand–and measure–our outcomes, with an initial focus on our BankWork$ program in Seattle, with their long tenure and record of success. What does participation in our BankWork$ program mean for our graduates, their future income, and their career pathways? What benefits does it provide the communities we serve? And how can a better understanding of graduates help employers better serve their communities?
Engaging National Experts to Independently Analyze the Outcomes of Our Seattle-Based Bankwork$ Program
Since the creation of BankWork$ in 2006, our training partners have provided a host of data on student demographics, graduation and placement rates, and retention with our employer partners. But to better understand our impact, CareerWork$ was eager to leverage our training partners' data along with outside economic data and to validate our results with a third party. To do that, we engaged with nationally recognized social impact experts Kinetic West to conduct an independent analysis of the outcomes of our BankWork$ program.
In April 2020, Kinetic West conducted its analysis using BankWork$ participant data from the YWCA Seattle for program years 2014 and 2015, as well as wage growth and employment rate data from Washington State Employment Security Department's unemployment insurance database. This allowed us to examine a training partner graduating significant numbers of students and placing them in roles with employer partners, and to closely track their post-graduation progress, including wages and employment rates.
Impact on Graduates
That analysis showed a clear and meaningful impact on the lives and futures of BankWork$ graduates, including both for graduates who were placed in jobs with employer partners and those who pursued other career opportunities after graduation.
Findings of the analysis include:
Graduates' income more than doubles in the first three years: Graduates see an average wage increase of 134 percent in the first three years after graduation when compared to wages earned in the year prior to joining the program.
Graduates become self-sufficient faster after our eight-week program: After participating in our eight-week class, a program graduate is estimated to exceed the self-sufficiency threshold for a single adult in King County within three years, compared to 27 years for a non-participant.
Expected lifetime earnings soar: Estimated annual lifetime earnings are $1 million higher for our graduates versus non-participants.
Graduates' employment rate skyrockets: By their third year since completing our program, employment rate gains are 39 percentage points higher for graduates compared to non-completers.
Social Impact for the Communities We Serve
We also set out to understand the social benefits of our program and the impact that new career connections have. We found: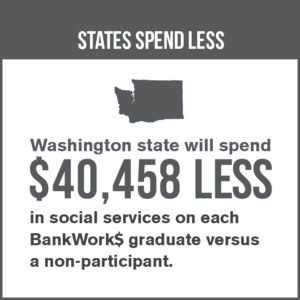 BankWork$ graduates pay more in taxes: Our Bankwork$ graduates pay an estimated 70 percent more in local, state, and federal taxes than non-participants.
States spend less on social services: Washington state will spend $40,458 less in social services per graduate than a non-participant.
Better Understanding Who We Serve and The Talent Our Programs Provide Employers
A key question we sought to better understand was who we serve. The data showed that:
52 percent of participants are bi-lingual or multi-lingual. This improves access to banking services for people who speak languages other than English.
82 percent of BankWork$ graduates are people of color: Our graduates reflect the communities where they live and work.
This was further evidence that our industry partners can benefit by engaging with, hiring, and retaining outstanding candidates who come from the communities they serve—helping to strengthen their local relationships and fulfill their organizational goals.
Expanding Our Impact and Helping Communities Recover Stronger
While this analysis is focused on outcomes for our Seattle-area BankWork$ graduates, we're confident that ongoing analysis of both BankWork$ and CareerWork$ Medical as we grow across the country will yield equally powerful insights and impacts.
We are committed to ongoing analysis of our programs and their impact, and we believe our work is more important than ever as we see the inequitable impact of the ongoing recession caused by the coronavirus crisis.
Working together, we need to do more to prepare for the coming recovery. That's why we are inviting foundations, advocates, employers, and policymakers to support our impactful programs, and help us offer these life-changing opportunities to more people in communities where young adults lack the access to career-building opportunities, and where employers have positions to fill. When we do, our communities will recover stronger.