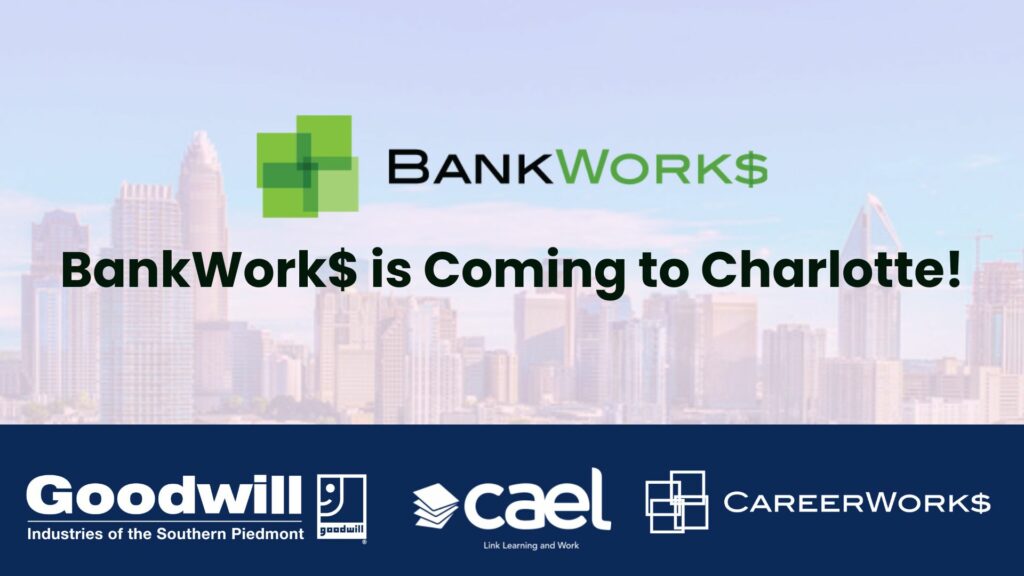 View original press release here.
Goodwill Industries of the Southern Piedmont is partnering with CareerWork$® and The Council for Adult and Experiential Learning (CAEL) to train and upskill people in the Charlotte region for careers in banking.
The Charlotte region is home to more than 91,000 financial services jobs, and it is the second-largest banking center in the nation. With no other workforce development programs dedicated to the finance industry in the greater Charlotte region, Goodwill Industries of the Southern Piedmont is expanding its training division to offer the BankWork$® program so that people have equitable access to career development opportunities.
"We envision a community where equitable access to career opportunities is available for all," said Chris Jackson, president and CEO of Goodwill Industries of the Southern Piedmont. "We recognize that skilled training is an essential part of helping to build our growing city, and having these skills can lead to in-demand, high-potential careers. We've come together with CAEL and CareerWork$ to make the path to these careers possible in one of our community's top industries."
CareerWork$ partners with experienced workforce development and nonprofit organizations, like Goodwill, around the country to operate their programs. On a national level, the BankWork$ program has a 73% placement rate.
"CareerWork$ is thrilled to partner with Goodwill Industries of Southern Piedmont to bring BankWork$ to the Charlotte region. Through this partnership, we hope to help many in the community launch careers with excellent growth potential in the financial services industry," said Ranko Fukuda, interim executive director.
BankWork$ is an eight-week intensive workforce services program that will give people the skills, access, and coaching needed to succeed and grow in banking careers—from understanding the financial services workplace to bank regulations, bank products, cash handling, and processing customer transactions. Graduates are prepared for roles such as: Associate Banker, Branch Banker, Client Services Representative, Lead Teller, Member Service Consultant, Personal Banker, Relationship Banker, Teller, and Call Center Representative.
Additionally, the program will engage prospective employers in the community during the duration of the program to provide industry insight and integrated recruitment opportunities.
"We look at the local business needs and participant opportunities to prosper when developing training programs for our nonprofit," said Raquel Lynch, chief program officer for Goodwill Industries of the Southern Piedmont. "In addition to providing BankWork$ to the Charlotte community, participants enrolled in this program will also have access to family stability services, a Career Navigator and Employer Engagement Specialist for assistance with interpersonal skills, mock interviews, resume preparation, and help landing the job."
Goodwill Industries of the Southern Piedmont uses the revenue generated from the sale of donations throughout our retail stores and online, philanthropic donors, and grants to provide employment, job placement, job training, and certifications and credentials for anyone looking to improve their skills and grow their careers. The BankWork$ program is also offered free of charge but will provide participants with a stipend of $15 an hour during their training to support them on their journey toward a new career.
"CAEL is grateful for Goodwill Industries of the Southern Piedmont's leadership in bringing this much-needed short-term career training program to the Charlotte community through Truist Foundation's Where It Starts: Build Better Careers initiative," said Earl Buford, president of CAEL. "We're excited to see how our partnership with Goodwill and CareerWork$ continues to unfold as we work together to create opportunities for more individuals in the Charlotte area to connect with good jobs in the financial services sector."