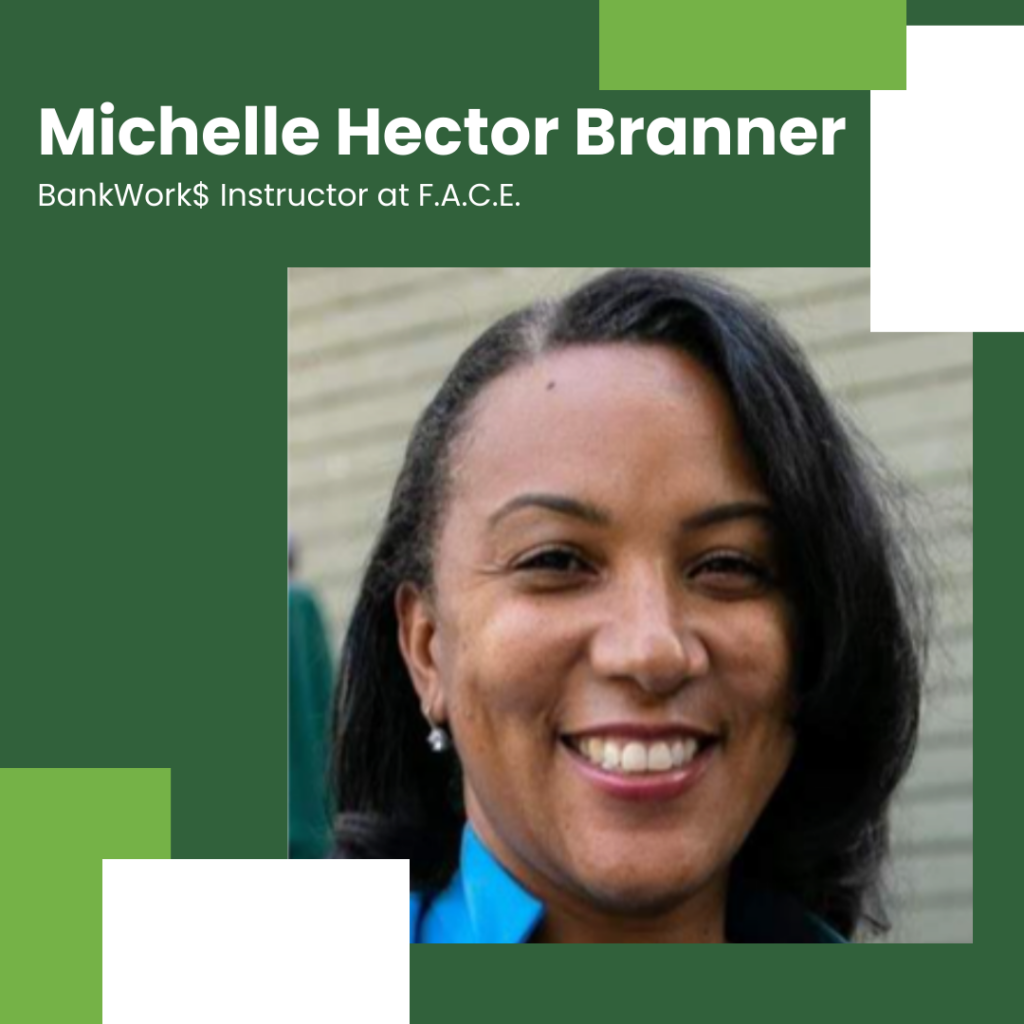 An Oakland native, Dr. Michelle Hector Branner has been teaching BankWork$ at Fremont Adult and Continuing Education (FACE) since 2017, helping to train and prepare program participants for entering the financial services industry. In February 2023, she graduated her 20th cohort and she can't wait for the next class to begin. 
"I originally wanted to work in financial services so I wouldn't have to work weekends!' says Michelle. "I started my career as a sales representative in a call center, then moved on to teller, then branch manager, and eventually a regional manager overseeing 24 banks in the Bay Area. Climbing the ranks in banking was an incredible experience, but the most rewarding part of my journey was helping my colleagues achieve their own goals within the industry. My passion for helping others succeed in banking ultimately led me to pursue a career in teaching and mentoring, which has always been a passion of mine, so becoming an instructor at FACE was a perfect fit. If I can help support people with a firm foundation for success, why wouldn't I?" said Michelle. 
As an instructor, Michelle teaches BankWork$, an eight-week program that covers everything from customer service to financial services. She provides individualized attention and support to each participant, ensuring they receive the guidance and resources necessary to succeed. Michelle describes her teaching style as filled with energy, enthusiasm, and a deep commitment to her students' success.  
For Michelle, seeing participants graduate is the most fulfilling part of her work. Witnessing her students overcome challenges and achieve their goals brings her immense pride and satisfaction. She strongly believes in providing a solid foundation for success and is dedicated to supporting her students every step of the way. As an educator, she strives to cultivate a learning environment that empowers individuals and fosters their growth. Two of her former students, Barabara and Jessica, have each shared with CareerWork$ the profound impact Michelle and BankWork$ have had on their lives.
"I am always moved to tears at graduations," says Michelle. "Witnessing students overcome adversity and push through to the finish line inspires me to continue helping others achieve their goals in the banking industry. When people ask me how I maintain my energy and enthusiasm, I always remind myself that every day is an opportunity for greatness. I actively choose to look for the bright side of things."
Michelle's work at BankWork$ has helped many individuals enter the banking industry and achieve their goals. She recently obtained her Doctorate in Education, Organizational Leadership, enabling her to assist further and guide aspiring professionals. She looks forward to continuing to support and inspire more participants on their path to success.
Click here to learn more about BankWork$ and our partnership with FACE.
For Five Years, Instructor Michelle Hector Branner Has Helped Aspiring Bankers Reach Their Potential Through BankWork$