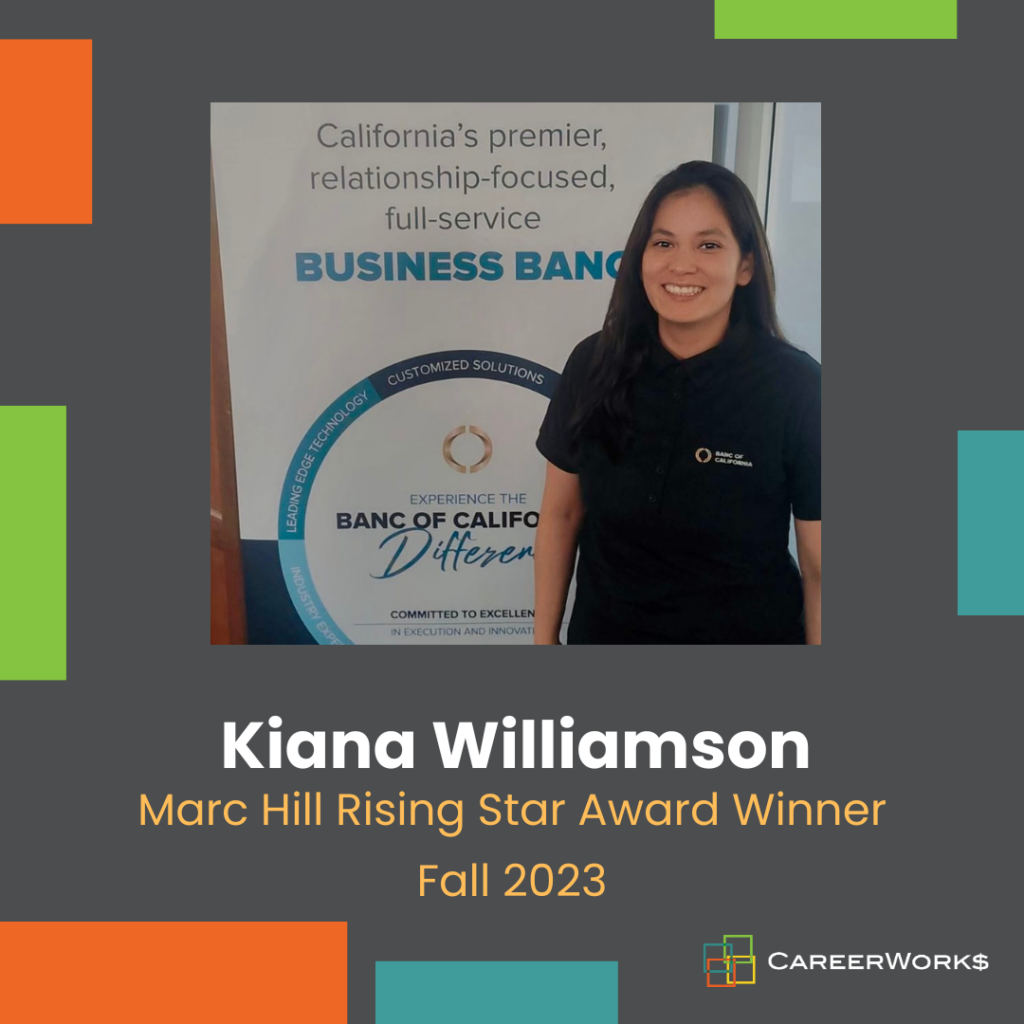 Before her involvement with BankWork$®, Kiana Williamson worked as a cashier in Whittier, California. As a single mother, she navigated the challenges of living paycheck to paycheck, often sacrificing weekends and holidays without the support of benefits. Her aspiration was to establish a career that allowed her to apply her mathematical skills, promising a brighter future for herself and her daughter. When she discovered BankWork$ at JVS SoCal, she believed it could be the ticket she was looking for.
"The BankWork$ program taught me how to dress and speak professionally. We had mock interviews and role-played to provide the best customer experience," said Kiana. Earlier this year, she graduated from BankWork$, marking a deeply personal achievement she hadn't experienced before. She invited her family, including her father, who was especially proud to see her graduate.
Jynelle Sumera, Kiana's instructor, witnessed her incredible growth throughout BankWork$. In Jynelle's words, "This past year, Kiana decided she wanted more for herself and her daughter. At the beginning of the program, Kiana was reserved, shy, and often second-guessed herself. However, something inside Kiana shifted after the initial weeks. She fully embraced the program's teachings, showing up early for class, dressed professionally, and always prepared. Her voice grew louder, and her confidence soared. She not only participated actively but excelled in class, becoming the next-level version of herself. Kiana's transformation served as an inspiration to all of us."
Kiana reflects on Jynelle as a compassionate instructor. "She has changed my life in so many ways by providing me ongoing support in the most uncomfortable situations," said Kiana. She was not just an instructor to me; Jynelle is a mentor and a friend who pushed me through this process even when I was experiencing personal challenges. Because of Jynelle's support, I am a much more confident person."
Today, Kiana works full-time at Banc of California, where her goals are to continue to learn and grow while she has found the work-life balance and economic independence that she and her daughter deserve.
Kiana was recently surprised with her celebration ceremony for winning the Marc Hill Rising Star Award, where she was joined by her former instructors, her team at Banc of California, and the entire CareerWork$ team.
The Marc Hill Rising Star Award recognizes a graduate of our BankWork$ or CareerWork$ Medical® programs each quarter who has shown significant personal growth and transformation from the start of their class until their graduation. Each award recipient receives a certificate and a cash award to enhance the start of their new career.
The award is an integral part of CareerWork$'s ongoing effort to create pathways to meaningful careers. It also honors the life, work, and legacy of the late Marc Hill, who was an instructor for both the BankWork$ and CareerWork$ Ready programs at YWCA Seattle | King | Snohomish. Marc passed away in late 2020, but the lessons he shared with his students epitomize our organizational values: respect, collaboration, equity, and inclusion.