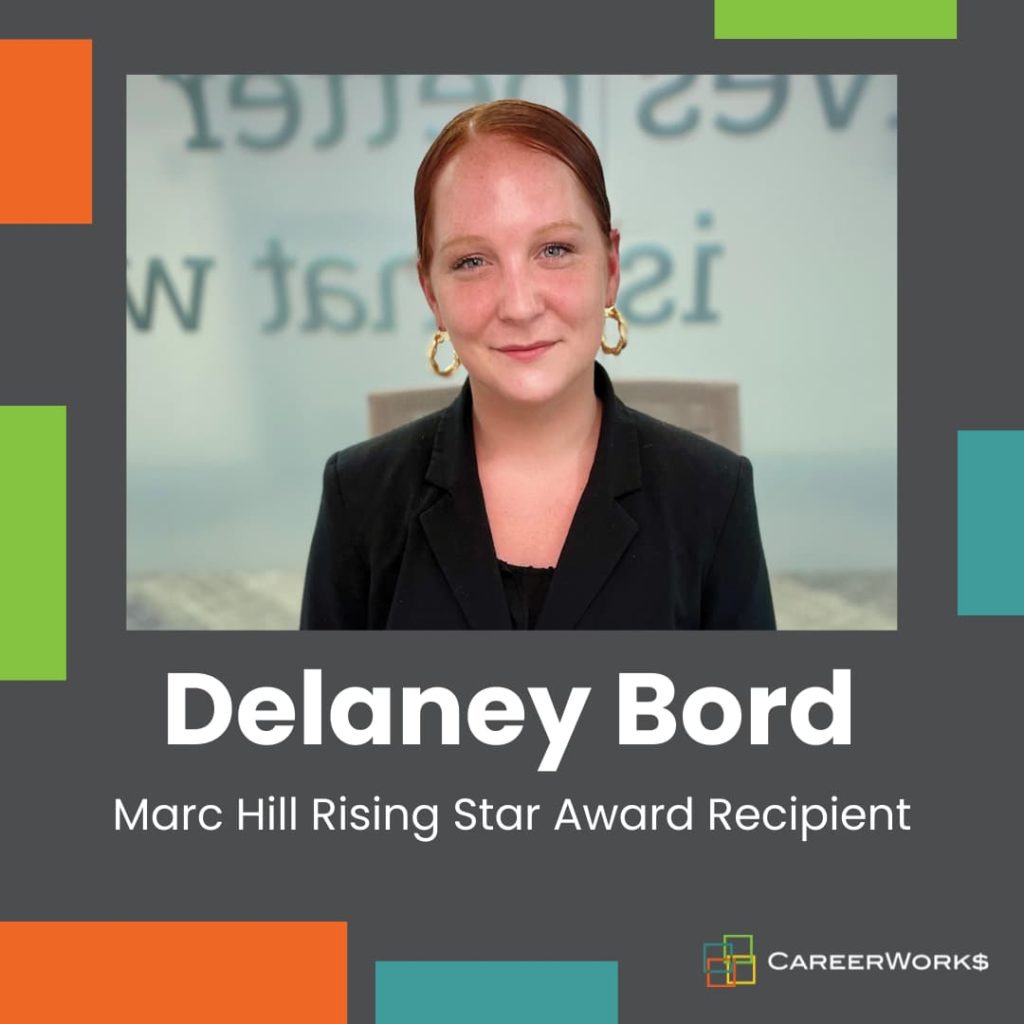 CareerWork$ is delighted to select Delaney Bord, a March 2022 graduate of the BankWork$® program from our training partners at Partner4Work and Energy Innovation Center Pittsburgh, as the fourth recipient of the CareerWork$ Marc Hill Rising Star Award! Delaney recently began her new career in financial services working as a Personal Banker at Dollar Bank in Pittsburgh.
Beginning in Spring 2021, the Marc Hill Rising Star Award recognizes a graduate of our BankWork$ or CareerWork$ Medical® programs each quarter who has shown significant personal growth and transformation from the start of their class until their graduation. Each award recipient receives a certificate and cash award to enhance the start of their new career.
The award is part of CareerWork$ ongoing work to open doors to meaningful careers – and honors the life, work, and legacy of the late Marc Hill, an instructor of both the BankWork$ and CareerWork$® Ready programs with CareerWork$ partner, YWCA Seattle | King | Snohomish, who passed away in late 2020. Marc began teaching our BankWork$ courses in 2011 and then began teaching CareerWork$ Ready in 2020 as part of our response to the COVID-19 crisis. The lessons Marc shared with his students embody our values as an organization: respect, collaboration, equity, and inclusion.
"I am incredibly grateful to be even nominated. Just hearing a few words about Marc Hill makes me feel so honored to get this award and have a chance to know his story. Bankwork$ has changed my life. Not only is BankWork$ an amazing program, but it has very inspirational and dedicated instructors, such as Tanya Bashor and Carmen Williams, who stop at nothing to make sure their students succeed. Words cannot even describe how truly thankful I am," says Delaney.
The CareerWork$ and Energy Innovation Center teams, along with Delaney's colleagues at Dollar Bank, had the opportunity to surprise her with the news that she had been selected as the newest recipient from a pool of candidates across the country.
"After we got off the video celebration, she was so appreciative, shocked, and overwhelmed with emotion that she was chosen. We are all so proud of her and all she's accomplished," says Kim Rodriguez, Assistant Vice President of Branch Administration at Dollar Bank.
"Delaney was one of the best students I have taught. She was punctual, had perfect attendance, excelled on all of her exams, and asked thoughtful questions throughout. She made no excuses even though attending the BankWork$ training for eight weeks was very challenging for her. Delaney was always positive and determined to place at a bank—and Dollar Bank is lucky to have her!" said Tanya Bashor, Delaney's former instructor at Energy Innovation Center Pittsburgh.  
From all of us at CareerWork$, congratulations, Delaney!
CareerWork$ Announces Delaney Bord as the Latest Recipient of the Marc Hill Rising Star Award