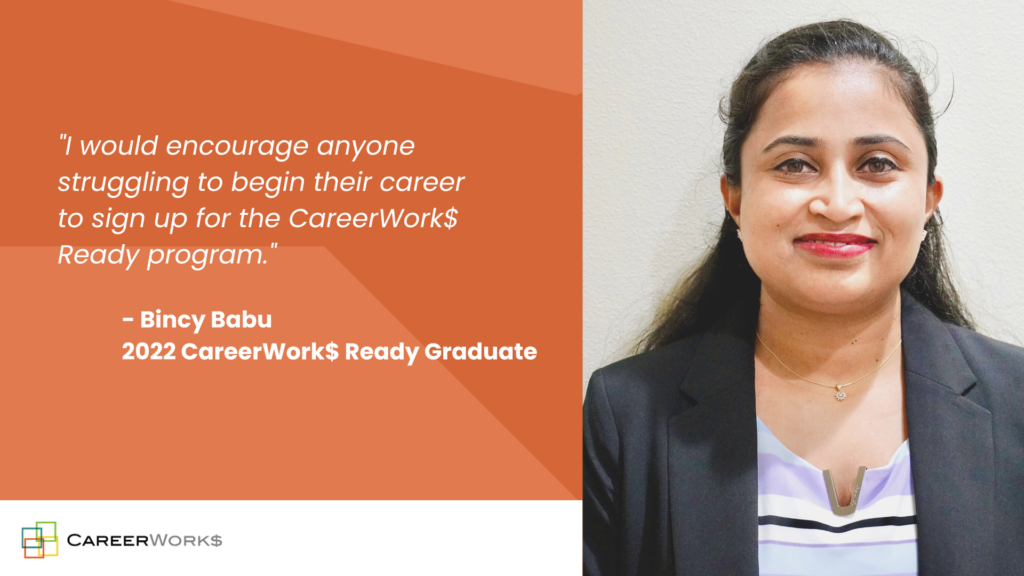 Upon relocating from India to Seattle, Washington, Bincy Babu, MBA faced the challenge of starting anew in a different country. While looking for new opportunities, Bincy discovered CareerWork$ Ready, is a free job readiness program created to help participants, offered at YWCA Seattle | King | Snohomish. During her time in class, Bincy developed her skills, built her confidence, and pursued her dreams.
"I would encourage anyone struggling to begin their career to sign up for this program," said Bincy. "The training sessions and curriculum provided me with the support, resources, a strong resume, and connections that helped me navigate the challenges that held me back from restarting my career. I will always cherish the positive impact it had on my life. I believe that you should bloom where you are planted, and anyone can accomplish their goals."
Today, Bincy is proud to be a Lead Operations Associate, managing daily operations and delivering excellent customer service. Bincy believes every day is a new opportunity for growth and learning, and she is excited to meet and help new people.
If your organization is interested in helping individuals like Bincy to advance in their careers, consider partnering with us to deliver CareerWork$ Ready. Please get in touch with us to learn more about this opportunity. https://bit.ly/3WETKiS
How Bincy Babu Found Success Through CareerWork$ Ready