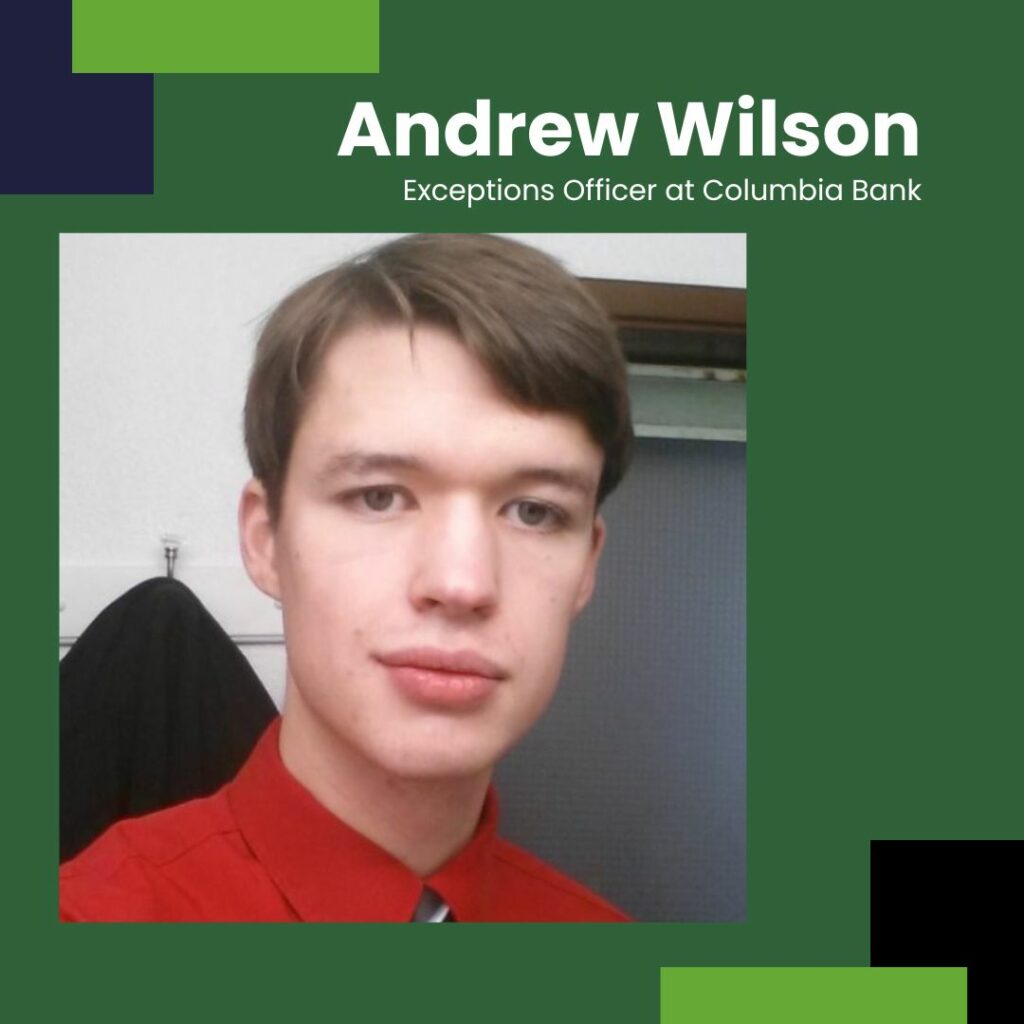 After graduating high school in 2017, Andrew Wilson—like so many—knew he needed to work but wasn't sure what he wanted to do professionally. A friend had recently graduated from BankWork$ at YWCA Seattle | King | Snohomish and, after seeing Andrew's discouragement following multiple rejections for lack of experience, pushed Andrew to consider BankWork$.
Andrew was primarily drawn to the general career preparation that BankWork$ provides. "When I started BankWork$, I didn't know what to expect," says Andrew. "My instructor helped me learn to be detail-oriented and focused. She understood that I needed to learn the basics of banking, and we started there. One day in class, we did an exercise where we pretended to be tellers. While I was doing a transaction, my fellow teller got robbed—nobody noticed. It helped me learn to be aware of many different things around me."
Mercedes Rippel, Andrew's BankWork$ Instructor, continued to stay in contact with him after graduation and still offers her support today. "When I first met Andrew, he was timid and unsure of himself," says Mercedes. "Once I interviewed him, I knew he would make an excellent Banker! Here we are today, and I could not be prouder of his success!"
Upon graduating from BankWork$, Andrew, like all graduates, attended a hiring fair where he interviewed with local financial institutions. He accepted an offer as a Backup Teller at Columbia Bank. Through diligent work and excellent customer service, he was promoted to a Full-Time Teller within a year.
Now, five years after graduating from BankWork$, he has been promoted to Exceptions Officer; he helps customers check for corrections daily and ensures deposits go to their correct accounts. He loves advancing his career at Columbia Bank.
"My family has always supported me and knew I would find a successful career. I have that now at Columbia Bank. I enjoy my role and want to stay with Columbia for a long time," said Andrew.
"Before BankWork$, I had trouble finding any job. I didn't know how to present myself, and I had terrible confidence, but the program taught me the fundamental skillset of banking and changed my mindset around my self-worth. Many of us in the class were in tough spots, but we all had a supportive mentality. It was an extremely welcoming and encouraging environment. Had I not stuck around, I'd be completely different."
Columbia Bank is a proud employer partner in Seattle, South Puget Sound, and Portland with our partners YWCA Seattle | King | Snohomish, Career Path Services, and SE Works respectively, with a robust history of hiring BankWork$ grads. Like Andrew, graduates across the country continue to thrive in new careers thanks to BankWork$.
Click here to learn more about BankWork$ and our partnership with YWCA Seattle | King | Snohomish.
Thanks to BankWork$, Andrew Wilson's Career at Columbia Bank Has Continued to Thrive for Over Five Years