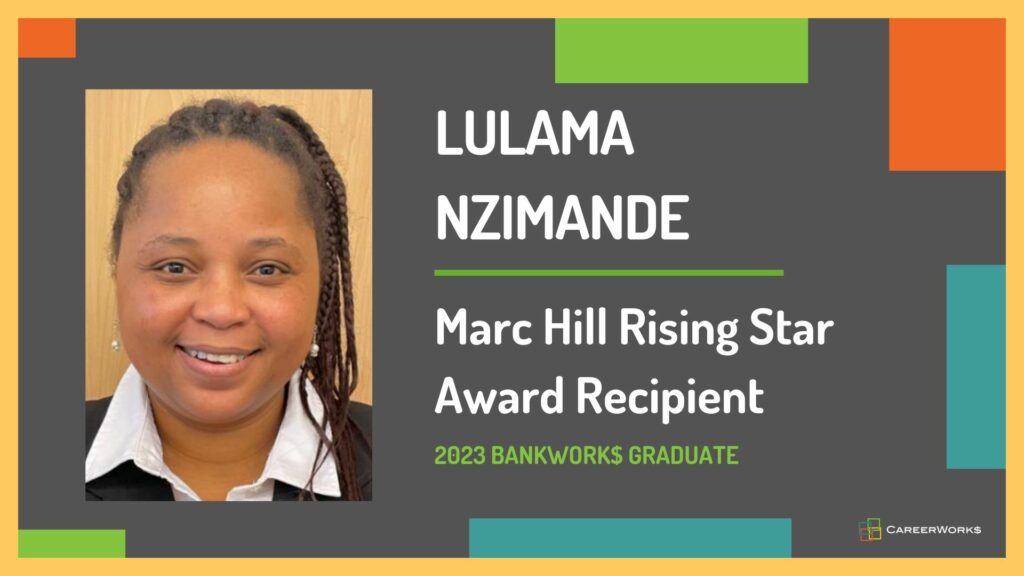 CareerWork$ is delighted to announce the selection of Lulama Nzimande, an April 2023 graduate of the BankWork$® program from our training partners at YWCA Seattle | King | Snohomish, as the sixth recipient of the Marc Hill Rising Star Award!
Lulama's journey began in her birthplace of South Africa, where she bore witness to the country's evolution from apartheid to democracy during her formative years, instilling in her a deep respect for diligence and advancement. Fueled by a recognition of insufficient financial awareness and empowerment among women, her path led her into the realm of financial services. Reflecting on her experiences, Lulama shared, "The positive changes I've seen in South Africa represent my enduring compassion for individuals who exemplify profound humanity."
Before enrolling in BankWork$, Lulama was already employed full-time as a dedicated caregiver. Her instructor, Tracy Hinman, mentioned that Lulama was "undeterred by her busy schedule; she adjusted her hours to coincide with the program's classes. Juggling overnight shifts while consistently being prepared for class, Lulama's determination stayed unwavering. She approached her assignments diligently, participated actively in class discussions, and maintained an incredibly positive attitude."
After graduating from BankWork$, Lulama secured a position as a Remote Contact Center Consultant at BECU, a month after her graduation. Her dedication, hard work, and commitment paid off, propelling her into the financial sector with confidence and purpose.
"After winning the award, I couldn't help but let my emotions overflow as it dissolved any lingering doubts I had about the worthiness of my journey," said Lulama. "The unwavering support from BankWork$ and the YWCA touched me deeply, serving as a reminder that I wasn't navigating this path alone. As a woman and a person of color, it means a great deal to me. It gives me hope. Moreover, it compels me to give back to the community, to anyone I come across. I have a desire to contribute, whether through time, financial assistance, referrals, or resources. It motivates me to be a responsible citizen."
The Marc Hill Rising Star Award recognizes a graduate of our BankWork$ or CareerWork$ Medical® programs each quarter who has shown significant personal growth and transformation from the start of their class until their graduation. Each award recipient receives a certificate and a cash award to enhance the start of their new career.
The award is an integral part of CareerWork$'s ongoing effort to create pathways to meaningful careers. It also honors the life, work, and legacy of the late Marc Hill, who was an instructor for both the BankWork$ and CareerWork$® Ready programs at YWCA Seattle | King | Snohomish. Marc passed away in late 2020, but the lessons he shared with his students epitomize our organizational values: respect, collaboration, equity, and inclusion.
Learn more about The Marc Hill Rising Star Award.
CareerWork$® Announces Lulama Nzimande as the Latest Recipient of the Marc Hill Rising Star Award